What is TSA PreCheck?
TSA PreCheck allows eligible travelers to experience expedited security screening at participating U.S. airports. With this service, you can go through security without removing:
Shoes

Liquids & gels

Laptop

Light jackets
How Can I Participate in TSA PreCheck?
Apply Online:

If you are not enrolled already, learn more here.
Let Spirit know:

Guests need to let Spirit know of their TSA PreCheck enrollment prior to travel.

For new reservations, the TSA PreCheck Known Traveler Number can be added during the booking process.

For existing reservations, this can be done via "My Trips." You may also add your KTN (Known Traveler Number) and redress number during online check-in.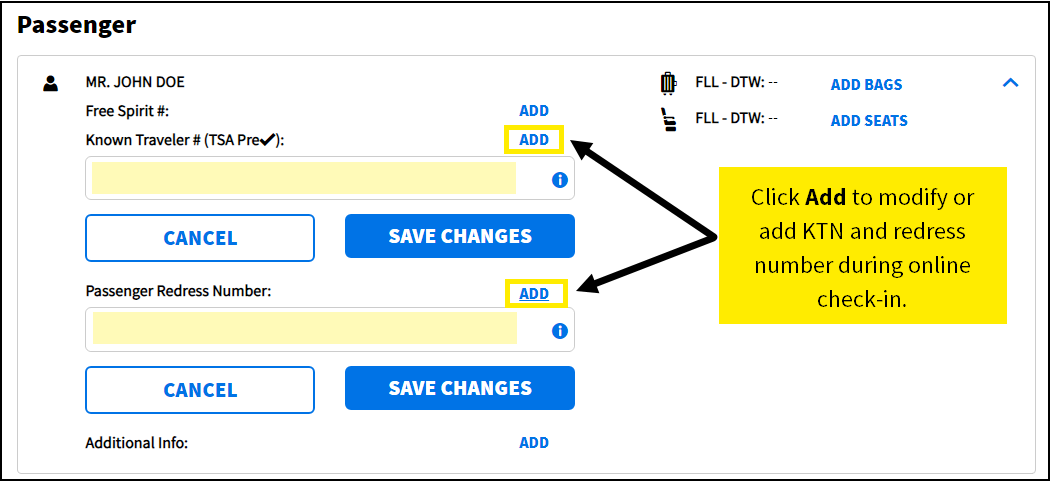 Have your boarding pass ready:
TSA PreCheck can be accessed with all Spirit boarding passes. Look for the TSA PreCheck indicator on your boarding pass. At the airport, head to the TSA PreCheck security area.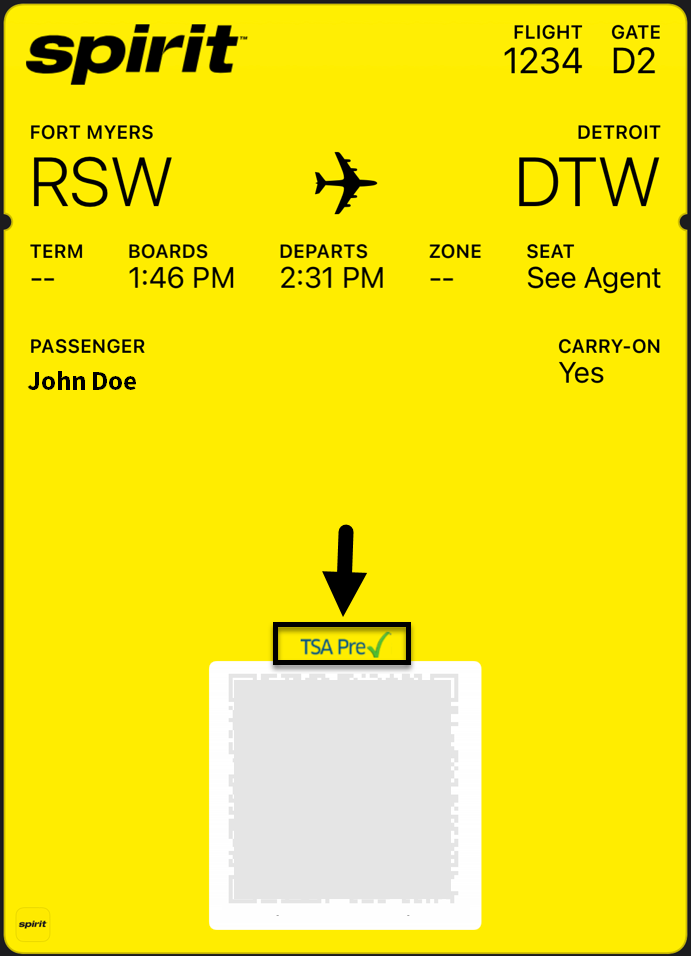 If I Have TSA PreCheck, can everyone on my reservation use the TSA PreCheck Lane?
Not quite. Children 12 and under accompanying an adult with TSA PreCheck on their boarding pass may use the TSA PreCheck lane. However, travelers 13 and older who do not have TSA PreCheck on their boarding pass must go through standard security.
Is TSA PreCheck Available at Every U.S. Airport?
Currently, TSA PreCheck is at 180+ airports. For participating airports and airlines, visit here.
Can Foreign Citizens Participate in TSA PreCheck?
Non-U.S. citizens enrolled in Global Entry or NEXUS may participate in TSA PreCheck. To participate, the NEXUS or Global Entry PASS ID, a nine-digit number that usually begins with 98, serves as your known traveler number (KTN). Your individual reservation — passenger name record — must include your KTN when booking on a participating TSA PreCheck airline.
Can I Use TSA PreCheck When Flying International?
Of course you can! TSA PreCheck is available for passengers traveling domestically within the United States and when departing from a U.S. airport to a location outside the country. Passengers may also be eligible for TSA PreCheck when connecting to a domestic flight after arrival in the United States. For TSA PreCheck hours of operation and location, visit here.
"Randomly" Assigned TSA PreCheck
Occasionally, the TSA will also proactively approve Guests who do not have a Known Traveler Number for TSA PreCheck on a particular flight. These passengers will not be required to submit any additional information, submit an application, or pay a fee. However, random TSA PreCheck status is applied on a flight-by-flight basis and has many factors, so it may appear for only part of your journey or only some members of your party. Remember, only guests with TSA PreCheck printed on their current boarding pass are eligible to use the TSA PreCheck line.